Imagine one fine day, you wake up and get a notification mail that there has been a transaction of 4000 dollars from your bank account. You would be devastated right? Then, of course, you find out that there has been a massive cyber fraud attack on your smartphone due to a violation of your personal space by accidental leakage of data to the intruders unknowingly. Since there are no manuals of mobile security, you have to be vigilant and ensure that an effective platform is maintained in these smart devices.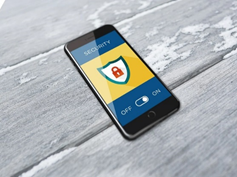 Below are the 8 mobile security tips that need to be followed to protect yourself from such mobile threats like Spyware, Phishing, Network Spoofing to name a few.
2-factor authentication- This is one of the most important security features that most users tend to ignore. This method tends to double secure your account by not only authenticating with a passcode but also with an OTP that is sent to your phone every time a request to access that particular account is sent.
Lock your smartphone- Always ensure that your smartphone has been locked by either generating the 4/6-digit pin or a lock pattern. Apart from this, some smartphones are even pre-built with a fingerprint or face id scanning that adds an extra layer of security for your content and confidential information stored in our devices.
Public Wi-Fi is a big 'no-no'- Imagine you are visiting a shopping mall, and you need to make a payment at the billing counter for which you need to initiate an online bank transaction. Never use this public Wi-fi that is freely available, because this open Wi-Fi is the areas of online mischief. Instead, try and use your mobile network data to make the necessary online transaction.
Disable Bluetooth- Also try to keep your Bluetooth switched off when you are out in public places unless you are wearing a smartwatch that might need your Bluetooth for connectivity.
Antivirus App- Try to install an antivirus app of a renowned company, that will protect all your data whenever you download any pdf files, images, or other files aren't infected with malware or virus.
Keep your phone and app updated- Highly recommended for all users to keep a check on any system updates and install them whenever it is passed down to users by various air updates.
Trusted apps- Go to settings > security on your android smartphone and you will see an option of 'Install apps from Unknown Sources', make sure that is switched off. This enables installation from unknown sources.
-Indira Roy (MBA-ITBM 2020-2022)